Turmeric powder is a spice that has always been there in the Indian kitchen spice rack, displaying a lovely golden color. Widely used in Indian and Middle eastern cuisine, it also has potent antioxidants that is beneficial to health.
Turmeric has a yellow-golden color that has an earthy scent and a peppery taste. It is one of the healthiest spice that can help boost your immune system. It is native to India and other tropical Asian regions where it has been harvested for over 5,000 years. Turmeric comes from curcuma longa plant and is a close relative of the ginger family. It is also used widely as an ayurvedic medicine.
What Makes Turmeric Powder Spice Special?
Turmeric spice contains bioactive compounds called curcuminoids that helps in promoting health. Curcumin is one of the most powerful antioxidant. Turmeric also functions as an anti-inflammatory compound that helps relief joint pain. Studies also suggest that turmeric contains antibacterial and antimicrobial properties. Turmeric also acts as a natural detox for livers and helps in promoting a healthy digestive system. Read more of this miracle spice from our previous blog post.
Download the 7 Scientifically Proven Health Benefits of Turmeric.
History of Turmeric spice
The use of turmeric dates back nearly 4000 years to the Vedic culture in India, where it was used as a culinary spice and had some religious significance. It probably reached China by 700 AD, East Africa by 800 AD, West Africa by 1200 ad, and Jamaica in the eighteenth century. In 1280, Marco Polo described this spice, marveling at a vegetable that exhibited qualities so similar to that of saffron. According to Sanskrit medical treatises and Ayurvedic and Unani systems, turmeric has a long history of medicinal use in South Asia. Susruta's Ayurvedic Compendium, dating back to 250 BC, recommends an ointment containing turmeric to relieve the effects of poisoned food. (Source)
Here is an infographic that shows the different healthy ways of using turmeric powder at home.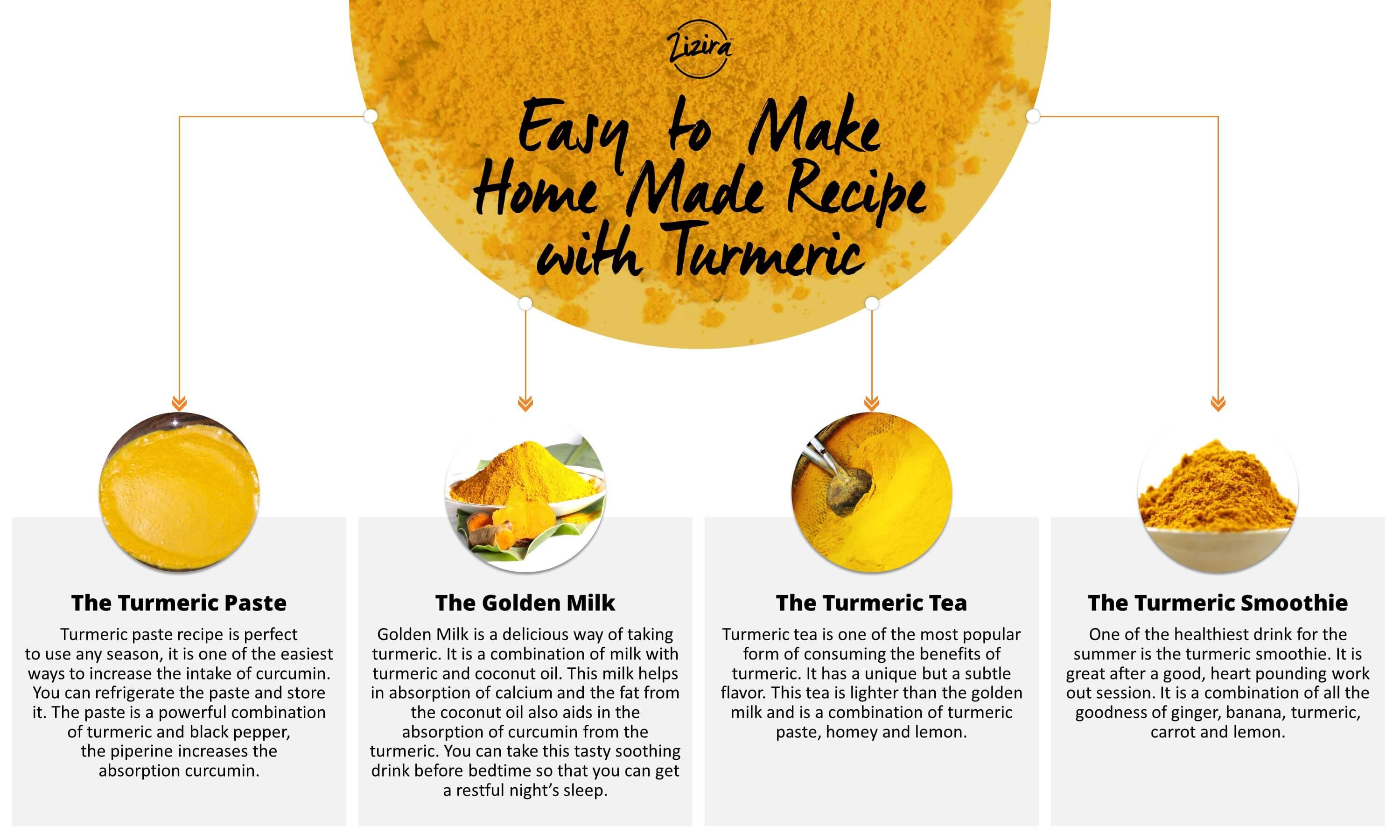 These are some of the quick and easy ways to consume the goodness of turmeric powder. Try it out for yourselves and don't forget to add your own creative flair to it.