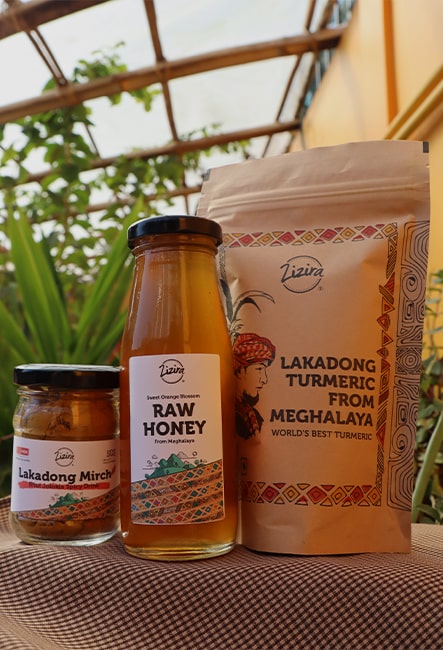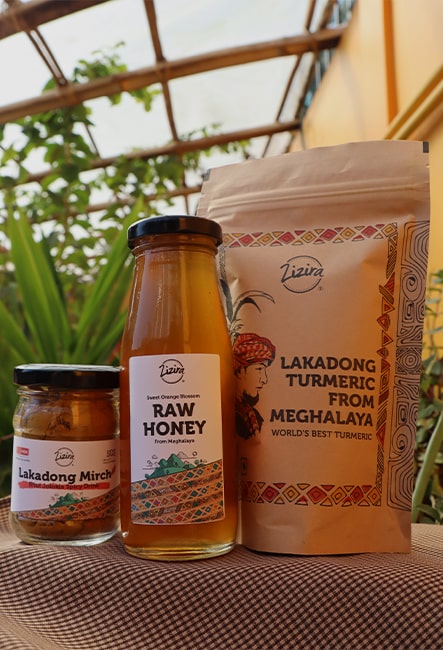 We understand it's hectic to balance busy work life and maintaining your health and fitness at the same time.
We have a solution for you that will fill up your basic nourishing needs. Meghalaya Nutri Stack will help you reduce your snack cravings and maintain a fitness diet by going to natural products.
This combo contains:
Lakadong Turmeric, rich in curcumin. Haldi is a key antioxidant and has nature's goodness for a fit body. Antioxidants help you combat free radicals, which may play a role in heart disease, cancer, and other diseases.
Orange Blossom Raw Honey,from Mawsynram, to stimulate you with it's hilly citrus aroma. Besides, raw honey is a healthier alternative to sugar.
Lakadong Mirch, which is a unique Haldi blend with Bhut Jolokia. Bhut Jolokia is known for its high level of capsaicin, which can increase your metabolism and control appetite so that you can resist your snacking habits.
Start your healthy natural diet today with Zizira's Meghalaya Nutri Stack.
Zizira's products are pure with zero pesticides or chemicals.
Price: Rs 1320/-
Inclusive of all charges & taxes.
COD Available.
Your order will take 8-10 working days to reach you.
Why Choose These Products?
Orange Blossom Honey (250g)
Honey has bee considered as Nature's boon. It was utilized in ancient Ayurveda for curing digestive ailments, for treating cough, for keeping the teeth and gums healthy, and for the treatment of insomnia. It was also used for the treatment of wounds and burns.
The anti-microbial, anti-inflammatory, antioxidant properties of honey helps us stay fit and strong.
Sweet Orange Blossom Honey (Raw Honey) is pure and packed with goodness and nutrients of raw honey from Mawsynram village, Meghalaya.
Zizira's Sweet orange blossom honey comes from the flowers of orange orchards in Mawsynram. It has a mild citrus flavor and is light in color with a refreshing scent.
Lakadong Turmeric Powder (150g)
Research shows that the turmeric has curative effects on over 581 diseases like cancer and other deadly diseases. The vitality to the healing power of turmeric lies in the chemical compound, called curcumin.
Lakadong turmeric is a special variety of turmeric that grows in Jaintia Hills, Meghalaya. Known for its high curcumin content which is between 6 to 9%, as against a mere 2 to 3% in most varieties of turmeric.
It can be used both for daily cooking, drinking with milk or as a paste.
Zizira's Lakadong Turmeric is pure & tested free of chemical pesticides. The strong aromatic fragrance and distinct color, marks its superior quality.
Lakadong Mirch (50g)
Working out is step one to healthy living. But by the end of our workout routine, we feel famished.
You can cut down hunger pangs and reduce cravings by simply tuning into nature's metabolism boosters. Zizira's Lakadong Mirch has spices such as chilli, pepper, cinnamon and ginger that burn fat for energy.
Zizira's Lakadong Mirch is a natural blend of Bhut Jolokia (King Chilli), Stevia, Lakadong Turmeric, Cinnamon, Ing Makhir (medicinal ginger) and Black Cardamom.
Mix 1 teaspoon of Lakadong Mirch to a cup of warm water. It increases metabolism and reduces appetite so that you don't turn to fast food or unhealthy midnight snacks.
Wake up to an exciting, nutritious diet everyday with Zizira's Nutri Stack
At Zizira, we believe there are undiscovered treasures in the hills of Meghalaya. Abundant rainfall, rich soil, high altitude, hilly terrain, fresh air and clean water. These natural conditions combined with traditional farming methods produce unusual plants and crops found in few places in the world. Zizira's hunt for these treasures covers what is considered by some to be 'the richest most biodiverse region in India'.
While you enjoy our flavorful products daily, be reminded of the importance of good farming methods. We are working hard to not only give you authentic products but to also work together with small family farmers in Meghalaya.
When you buy Zizira's products, together we create the process of regenerative and sustainable farming.
REVIEWS
1000+ families have used Zizira to add nature's goodness to their diet.
4.8/5 by 218 customers
Superfood
Great to have switched to this high curcumin turmeric and results are outstanding in terms of building up immunity against seasonal change related illnesses, and yet it offers more than this. Use it regularly in your daily meal preparations for your family. It is the one good thing you can do for them to maintain health and vigor.
-Prabodh S
Impressed with the quality
I've been ordering turmeric regularly from you from past 1 year . I'm really impressed with the quality. I myself have been taking 1 tablespoon everyday since last 1 year and I have genuinely felt a difference in my health. No cough , cold , fever , joint pains etc
-Rajesh K
Beautiful natural products
I never tasted the type of honey and beautiful aroma of turmeric, very pure and fresh even price is little higher but for there efforts it's really less, daily I am using turmeric milk at night and for cooking too.thanks zizira,please maintain the quality.
-Sridevi S
If I can give award, I will
I seldom write feedbacks on produce but guys the Honey !!!! I can taste the flowers.. its divine , out of this world and most delicious .. if i can give you an award - i will . I have never ever tasted anything that leaves the fragrance on the TONGUE!!! Its phenomenonal. Pl keep the quality like this ❤️
-Taru S
Orange blossom honey and lakadong turmeric
The orange blossom honey is the best honey i have ever tasted with slight orange flavour in it. The texture of the honey is so smooth , i ate 3 spoons directly. The lakadong turmeric chai is so powerful only a pinch is enough in the milk and you can feel the hard powerful flavour of it. It takes sometime to get adjusted to it.
-Vinay T
Lakadong Mirch - Yummy drink in a jar!
This drink is what I've always been looking for! When I had the first sip I was like yes! This is it! 1/2th tsp in a mason jar of hot water and you are set in spice haven! It has the perfect blend of spices to enjoy and also curbs your midafternoon snacking! It's very reassuring to know that you are doing your body good by having this drink.
-Sukanya J
What's in the combo pack?
This combo pack contains 150g Lakadong turmeric, 250g Orange Blossom Honey and 50g Lakadong Mirch blend.
How long will these products last?
It varies on how much you consume these products. Generally daily use of these products will last for 40 to 65 days.
When will I receive my order?
It takes 8-10 working days to reach you from the date of order.
I have a question, can you answer?
Yes. You can call or whatsapp us on +91 8119840256.
How can I use these products
Lakadong Mirch: Warm water (or milk) on the stove. Do not boil. Add 1 teaspoon of Lakadong Mirch to the cup. Pour in cup and stir. Add sweetener if desired. Enjoy warm or over ice.
Orange Blossom Honey: Whether you are preparing a marinade or topping a cheesecake, Zizira Pure Orange Blossom Honey is a seamless complement. Whichever way you use this honey, it will tingle your taste buds.
Lakadong Turmeric: You can use it in your daily cooking. Because of its high curcumin, you can make your drink it with warm water or milk or make a smoothy. Consume this as a natural remedy and prevent yourself from many ailments.
What's special about Lakadong turmeric?
The high altitude, cool climate, abundant rain, the quality of the soil, the ancient variety of turmeric, and traditional farming methods.
Lakadong Turmeric is known for its medicinal qualities. The Curcumin content in Lakadong Turmeric is between 6 to 9% (last tested in 2019), which is one of the highest, as against a mere 2 to 3% in most varieties of turmeric.
Lakadong Turmeric (Curcuma Longa) is indigenous to Meghalaya and obtained Geographical Indications(GI) tag by The Spices Board of India on 26th July, 2015. Despite many of its clones, Lakadong's uniqueness has never been usurped.
What's special about Lakadong Mirch?
The high level of capsaicin in the Lakadong Mirch increases metabolism and can suppress appetite. It's a quick and easy drink that will distract you from snacking and pep up your energy level.
Ingredients: Bhut Jolokia, Stevia, Lakadong Turmeric, Cinnamon, Ing Makhir( medicinal ginger), Black Cardamom.
Health Benefits of consuming the ingredients found in this blend:
Appetite suppressant
Metabolism increaser
Inflammation reducer
Antioxidant
What's special about Zizira Honey?
Zizira Honey is pure, natural, raw and unprocessed. It has been tested free of artificial additives, coloring or preservative. It's color & flavor depends directly on the source (orange orchards in Mawsynram in this case) of the nectar.
Obtained from the traditional beekeepers of Meghalaya with years of indigenous knowledge, Zizira's pure Orange blossom (uniflora honey) is made from sun-soaked pollen and nectar collected by bees.
Zizira's Orange Blossom honey has a mild citrus flavor and is light in color with a refreshing scent. It is unprocessed and comes to you straight from the honeycomb, retaining all its nutrients, just as found in nature.
Local folks from Meghalaya love this honey for its delightful taste and for its multiple all-around uses.