What Goes Behind The World's Best Turmeric
Whole and Pure or Nothing
Real Lakadong turmeric looks different, has a strong aromatic flavor and taste. It is popular because of its high curcumin content (generally above 6%). The hilly terrain, climatic conditions, soil type are some of the factors that make it unique.
We also know that there is a huge problem where traders mix this turmeric with other turmeric varieties.
Being at the source and speaking the local language, Zizira aims to preserve the specialty of this wonder spice. We are committed to source pure Lakadong raw turmeric that we can find from Jaintia Hills in Meghalaya. We are committed because we know that it matters to the end consumer, to the health of the soil, the land, the environment, and to the future of this ancient heirloom food preserved for generations by our ancestors.
What goes into the sourcing and processing of Zizira's Lakadong turmeric?
A Quick Overview:
We care deeply about where our Lakadong turmeric comes from. We only look for heirloom, non-GMO Lakadong Turmeric. We know where our turmeric comes from.
Ingredient Evaluation
To provide the world's best turmeric, we select the best from the very people who grow them, who knows the difference between Lakadong turmeric and other varieties.
While modernized and industrialized farming practices maximize profit and production, these practices aren't used. We make the extra effort to partner with farmers from Jaintia Hills whose traditional farming practices emphasize on quality and responsibility. We do not source from factories.
We know our farmer partners. We share the same mission. We prioritize on the long term health of the land. The land of these farmers is free from pesticides, chemical fertilizers, and insecticides. They use traditional methods of farming: cow dung, manure and vermicompost in their soil while cultivating Lakadong turmeric. They have seen the negative impact of chemicals on crops and the soil.
We are all about getting genuine, unadulterated Lakadong turmeric and it's unique delectable flavors to our customers. We spend a lot on making sure that our customers get the best product. We wouldn't have it any other way.
"What we plant has come from our forefathers - from one crop to the next!"
-A Lakadong farmer
Product Safety
In the processing of food, we are aware of hazards that can creep in. So we are prepared. We did not take chances with any kind of hazard – physical, chemical or biological. We take every necessary precaution to control them at every critical point in our food processing facility.
That is what we are doing with every new harvest of Lakadong turmeric:
Quality Assurance Test
We send the turmeric powder to accredited testing house to rule out the presence of any kind of hazard. We have to be sure the turmeric slices or powder that we offer our customer is no lesser than pure, high-curcumin Lakadong turmeric. We send test samples to ensure the turmeric is free from unwanted contaminants such as heavy metals, chemical fertilizers, insecticides, pesticides and toxic chemicals. Only after getting the favourable test reports do we release our products to the shelves.
The curcumin test that we did on our turmeric is above 7.5%.
Cleanliness and care has always been part of our culture.
Extra Care When Washing
At our in-house processing unit, the freshly harvested turmeric rhizomes are removed and the fingers separated. We do this to remove the soil stuck in between the fingers.
The entire lot is then soaked in clean water for about 10 minutes to loosen soil and dirt particles.
One batch after another then goes into a roller-drum washer for a thorough 7 to 10 minutes roll-washing under a jet of running water. At the end of that time, the turmeric fingers come out scrubbed and cleaned. But we are not yet done.
The 3-basin washes are the next steps for the rhizome pieces to come out even squeakier clean, smooth and shining, cleared of all physical dirt.
The cleaned rhizomes then go to food-grade containers to drain off the extra water.
Next, they are fed to a mechanised slicer for slicing. Even as we slice the rhizomes we savour that wafting special aroma that can only belong to pure Lakadong. A deep golden yellow colour diffuses across the workroom; the aroma that now permeates the air is so distinctive and defining. There is no mistaking the scent of freshly harvested Lakadong, the world's best turmeric.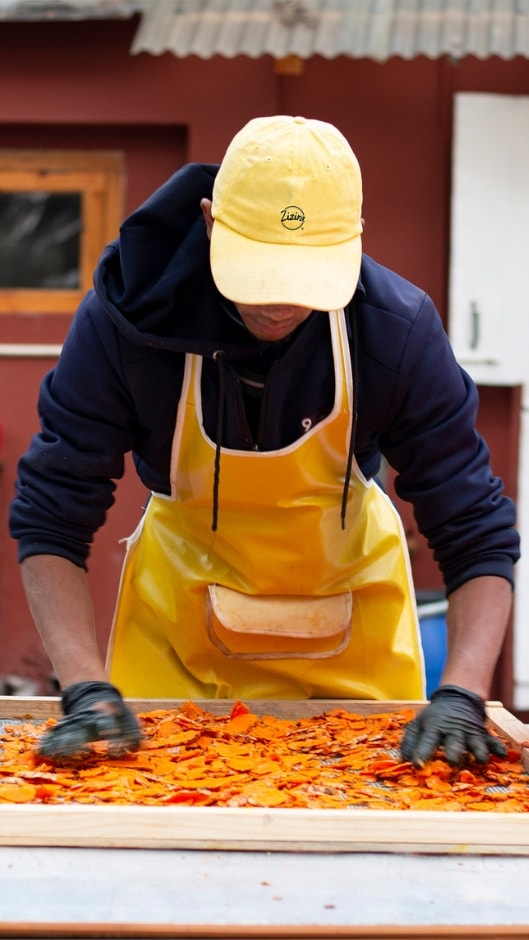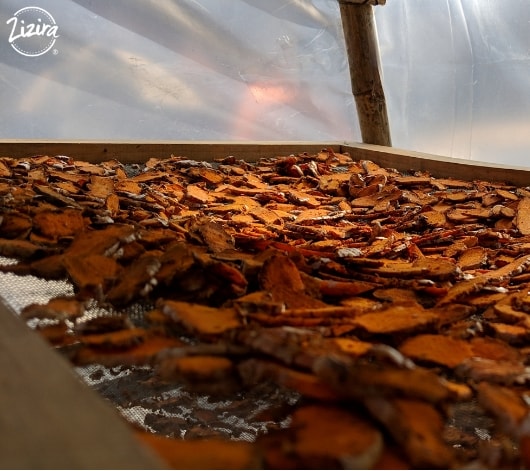 Our Drying Chambers
We keep three types of driers in place to ensure we pass this critical point: solar dryer, gas dryer and wood-burning dryer. All three are utilised as required to quicken the drying process so that all slices become devoid of moisture within 4 hours. That will rule out fungal and other microbial growth. Besides, the temperatures inside the drying chambers are well beyond 100°C, enough to eliminate any lurking pathogen.
Within the next 48 hours, the slices will have to be fully dried.
Airtight Packaging
But we still have to see that moisture does not seep back. We use the oxygen absorber and the silica gel absorber so the dampness stays out. This is essential before the final processes of grinding, sieving and packaging. We also place silica gel pouches in the packages for humidity control.
We are a business that solves problems and overcomes challenges.
Credible, Safe and Wholesome
We follow a similar process for all of Zizira's products. Credible, high standard quality maintenance without excuses. We understand that the choices we make and who we work with, partner with, what and how we serve can make a difference.
We believe that our continued effort and diligent work will contribute to the health of our customers, to the prosperity of the farmers as they revive and regenerate traditional farming practices. This good for the health of the soil and the whole eco-system which will, in turn, supply us with healthy, safe and wholesome food.